In Indonesian election, secular parties confirm appeal
Support for Islamist groups appears to be waning after a surge in 2004.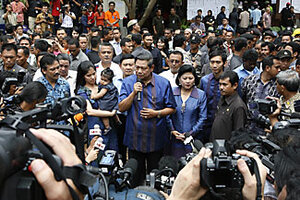 Supri/Reuters
Early results from Thursday's parliamentary elections in majority-Muslim Indonesia have reaffirmed the appeal of broad-based secular parties over Islamic-oriented rivals.
The three largest secular parties took more than half of the votes, according to projections based on poll sampling. The Prosperous Justice Party, or PKS, the most conservative Islamist party in the race, polled around 8 percent, similar to the last elections. Other Muslim parties vying for parliamentary seats saw their share of the national vote fall. A total of 38 parties contested the elections.
The outcome suggests that a surge of support for Islamists at the last polls in 2004, at a time of uproar in the Muslim world over America's "war on terror," may have been an outlier in Indonesia's secular democracy. Calls for Islamic-based justice and morality appear to have gone unheeded as most voters opted for politicians who campaigned on the economy and the battle against poverty.
Islamists moving toward the center
Even before Thursday's vote, many Islamist politicians had begun moving to the center, downplaying divisive issues of faith and supporting programs to help the poor. Joining governing coalitions has tempered their zeal and forced them into pragmatic alliances with secular partners. At the same time, those partners have polished their Muslim image.
Some observers warn that Islamic orthodoxy still poses a threat to Indonesia, a patchwork of faiths and ethnicities. Greater piety in public life sows alarm among non-Muslims, who fear a gradual retreat from the nation's secular foundations. But the tepid support at the ballot box for Islamist parties suggests these groups face an uphill climb.
---