Taiwan wins rare UN invite
With nod from China, it will attend next month's World Health Assembly, but only as an "observer."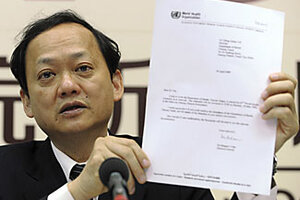 Reuters
Taiwan has won observer status at next month's World Health Assembly, the government said Wednesday, after China dropped its opposition to the island's presence at this year's gathering.
The invitation marks a breakthrough in Taiwan's long campaign for more participation in global groups, and comes amid a warming trend in cross-strait relations.
Taipei hailed it as a sign of China's goodwill, and as vindication of its strategy to engage Beijing pragmatically.
But the island's pro-independence opposition slammed the government for accepting a downgrade to Taiwan's sovereignty as the price of admission.
"The scope of Taiwan's participation will be decided by Beijing – it has the final word," says Lo Chi-cheng, a political scientist at Taipei's Soochow University. "So in a way, Beijing is the central government and Taiwan is like a local government. That's the problem we're facing now."
'Chinese Taipei'
Taiwan will participate under the name "Chinese Taipei" – the awkward moniker it also uses at the Olympics – in a nod to Beijing's sensitivities.
Rather than attend as a member country, it will be as something short of a nation – part of a motley group of "observers," which in the past have included the Palestine Liberation Organization and the Knights of Malta.
Critics noted that the invitation was only for this year's meeting, and only on Beijing's say-so. That means China could block Taiwan's participation in future years if it was displeased with Taipei, or if the pro-independence party returns to power.
---