Korea: Kim Dae-jung's funeral may spark North-South reconciliation
As tens of thousands gather in Seoul to mourn the death of the former president, his 'Sunshine policy' is breathing life into fresh North-South talks.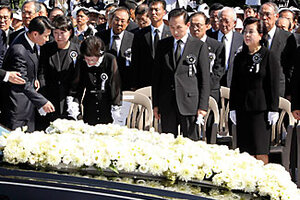 Ahn Young-joon/Reuters
The state funeral Sunday for Kim Dae-jung, the former South Korean president who initiated his country's "Sunshine policy" vis-a-vis North Korea, is opening a new chapter in the search for North-South reconciliation.
While tens of thousands of mourners flocked to the service in front of Seoul's domed National Assembly building, President Lee Myung-bak received a six-member delegation representing North Korea's leader Kim Jong-il, whom Kim Dae-jung met for the historic first North-South summit in Pyongyang in June 2000.
Kim Jong-il's message, however, was described by a spokesman for Mr. Lee as "oral," not written, and touched only on "progress of inter-Korean cooperation." That comment indicated that Kim Jong-il did not mention the nuclear and missile programs that led the United Nations Security Council after North Korea's May 25 nuclear test to invoke sanctions banning trade in critical items that North Korea badly needs.
"North Korea's peace gesture has nothing to do with its intention to give up nuclear weapons," says Kim Tae-woo, a senior analyst at the Korea Institute for Defense Analyses in Seoul. "That is entirely separate."
North Korea signaling new openness toward the South
---