Afghan parliament's rejection of cabinet may delay reforms for months
The Afghan parliament will soon begin a six-week break, then prepare for elections, leaving less-influential acting ministers to govern.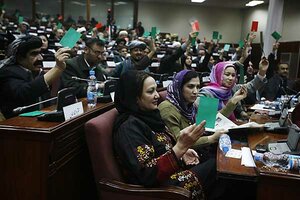 Farzana Wahidy/AP
The Afghan Parliament's surprise rejection of most of President Hamid Karzai's cabinet picks could delay serious reforms of the weak Afghan government until the second half of 2010.
The vote this weekend to strike down 17 of Mr. Karzai's 24 choices for ministers comes days before Parliament breaks for a six-week recess. When the members reconvene, they will spend another week or more vetting Karzai's second choices. Shortly thereafter, the government will be focused on parliamentary elections slated for May 22.
The international community had hoped to move quickly past last year's fraud-ridden presidential elections by pairing a new surge of foreign troops with a new push for a more effective Afghan government. Instead, the messy process – while a potentially positive step for democracy – threatens to delay governing.
"We were hoping that by early 2010 we might have a new cabinet and could move forward. But now in front of us we have a cabinet crisis and in a few months we will have issues with Parliamentary elections," says Haroun Mir, an analyst with the Center for Research and Policy Studies in Kabul. "The likelihood of having another dysfunctional government for 2010 is very high right now."
Important events ahead
In the interim period, ministries will be headed by acting ministers. Such ministers will not have the same clout to initiate new projects, causing delay on major decisions, says Ahmad Nader Nadery, chairman of the Free and Fair Election Foundation of Afghanistan.
---