Afghanistan President Karzai inaugural: promises of clean cabinet
Afghanistan President Hamid Karzai promised to tackle corruption in his inaugural speech on Thursday. But he also promised a "professional" cabinet, something the Obama administration and others have been pushing for.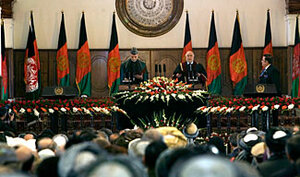 Musadeq Sadeq/AP
Afghanistan President Hamid Karzai promised to crack down on corruption after being sworn in for his second term on Thursday. But his related promise to fill his cabinet with "professionals" may be what the US and other governments were most hoping to hear on the topic.
"The ministers of Afghanistan must possess integrity and be professionals serving the nation," President Karzai said in his second inaugural speech. "Those who spread corruption should be tried and prosecuted."
His speech also outlined a goal for Afghan forces to "take the lead" in providing national security within five years, providing a rough time line for a draw-down of international forces.
Foreign leaders have hammered Karzai on corruption in recent weeks – lambasting a top Karzai minister after a leak that he accepted a $30 million bribe and, in the case of US ambassador Karl Eikenberry, voicing opposition to sending additional troops.
But pushing Karzai on corruption allows foreign governments an indirect method to influence the makeup of the new cabinet – a key concern as they look for governmental partners other than Karzai to work with.
"The current pressure by the international community seems largely aimed at getting a cabinet that they are happy with and that they can show to their home audiences as a step in the right direction," says Martine van Bijlert, co-director of the Afghanistan Analysts Network in Kabul. "This is partly about not having obvious names in it that everybody recognizes – so they can come out publicly and say we welcome this cabinet."
---