Liu Xiaobo: Vaclav Havel confronts Chinese on sentencing of dissident
Former dissident and Czech president Vaclav Havel visited the Chinese Embassy in Prague this week in support of Liu Xiaobo, a Charter 08 author and democracy activist who received an 11-year prison sentence last month. Mr. Havel was a principal author of Charter 77, which targeted suppression in the Soviet East Bloc.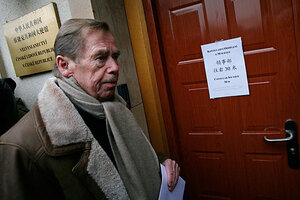 David W Cerny/Reuters
Czech dissident playwright-president Vaclav Havel, a principal author of East Europe's Charter 77, rang the door bell at the Chinese Embassy in Prague this week to support another charter author, Liu Xiaobo. Mr. Liu, co-author of a manifesto called Charter 08 and a well-known democracy advocate, received an 11-year prison sentence on Christmas Day by Beijing authorities.
But after three rings, Mr. Havel had to "post" a protest letter to Chinese President Hu Jintao in an outdoor embassy mail slot.
Coming out of a relative seclusion, Havel has described frustration along with other European human rights advocates at the relative Western silence on the hefty sentence given Liu in Beijing.
"We are here now because we are asking the Chinese president and Chinese government not to repeat what happened to us 33 years ago ,where fighters for freedom were pursued and persecuted," he stated.
The Charter 08 manifesto in China, similar to the Charter 77 document, calls for major democratic reforms, including freer speech and an end to China's one-party rule, and was signed online by hundreds of ordinary Chinese, intellectuals, and even some mid-level party officials when it first appeared on the Internet in China a year ago.
---