On birthday of Kim Jong-il's son, a North Korea rising star
On the birthday of Kim Jong-un, North Korea leader Kim Jong-il's son, newspaper drew attention to the "unusual brightness" and placement of Venus, which was seen as a good sign for Kim Jong-un.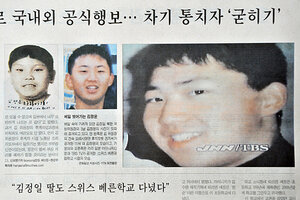 AFP/Newscom
At least one of the planets appeared to be properly aligned – in the rhetoric from Pyongyang – when North Korea's heir apparent, Kim Jong-un, marked his 26th or 27th birthday Friday.
Pyongyang's Korean Central News Agency reported several days ago that the "morning star" Venus "shed an unusually bright light" above the lake that fills the crater of sacred Mount Paektu on North Korea's border with China.
Considering that North Korean mythology holds that Kim Jong-un's father, Dear Leader Kim Jong-il, was born in a log cabin on a slope of Paektu, at 9,000 feet the highest peak on the Korean peninsula, observers take the report of Venus shimmering high above as a serious portent.
North Korea's party newspaper Rodong Sinmun evoked the image of Paektu again on Friday, calling on readers to "toast to the endlessly bright future of Chosun (the traditional name for Korea) that will resemble the shape of the sun and the holy land of Paektu."
---
Follow Stories Like This
Get the Monitor stories you care about delivered to your inbox.