Australian Open: Why Chinese women are breaking into top tennis ranks
China's sports fans gushed with pride as Zheng Jie and Li Na reached the Australian Open semifinals – the first time two Chinese women have made the top 4 at a Grand Slam tournament. Li, after defeating Venus Williams, became China's first tennis player to join the world's top 10.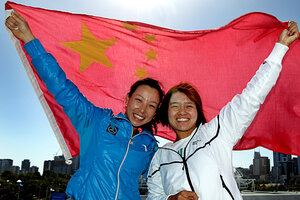 Fiona Hamilton/Tennis Australia/Reuters
Chinese sports fans are elated over the smashing success Chinese women are enjoying at the Australian Open tennis tournament.
For the first time ever, two women from the world's most populous – but not normally tennis-mad – nation have reached the semi-finals of a Grand Slam tournament, and the Chinese press is bubbling over with national pride.
"More History Beckons for Chinese Tennis," trumpeted The Global Times in its report on Zheng Jie's crushing quarterfinal victory over the Russian Maria Kirilenko on Tuesday. Ms. Zheng's compatriot Li Na is also on a roll, and later scored an upset victory over Venus Williams to join Ms. Zheng in the semis
Zheng made the semifinals at Wimbledon four years ago, but never has the prospect loomed of an all-Chinese women's Grand Slam final.
"Chinese golden flowers are the best," gushed one web surfer on the sports page of Sohu.com, a popular web portal, referring to the two women. By Wednesday afternoon 40,000 people had left comments about the unexpected news from Melbourne.
Freedom from state interference
---