China dissident Liu Xiaobo loses appeal, US urges release
China was criticized by the US ambassador and other foreign diplomats after a Beijing court rejected the appeal of top Chinese dissident Liu Xiaobo against his 11-year jail sentence, the severest in recent memory.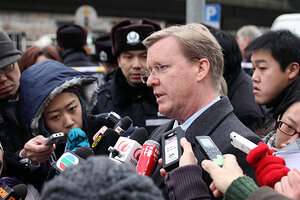 Nir Elias/Reuters
A Chinese court's decision to uphold an especially harsh prison sentence against one of the country's most prominent dissidents drew angry international protests Thursday. But the criticism of China will almost certainly go unheeded.
United States Ambassador Jon Huntsman, in an unusual public statement, urged the Chinese government to release Liu Xiaobo, whose appeal against an 11-year sentence for "incitement to subversion" was rejected by a Beijing court.
Mr. Liu, a veteran campaigner for greater political freedom had "peacefully worked for the establishment of political openness and accountability in China," said Mr. Huntsman in a statement read out by a US diplomat outside the courthouse Thursday morning.
About 20 other foreign diplomats showed their support for Liu by appearing outside the court. The verdict condemning Liu to jail "is entirely incompatible with his right to freedom of expression," a European Union statement said.
Harshest sentence in memory
Liu appealed a sentence, handed down on Dec. 25, that shocked relatives and rights activists with its harshness. It was the heaviest punishment for such a crime that lawyers could remember.
---