How Japan views Toyota recall woes
In Japan, Toyota recall woes were met first with disbelief and then with an onslaught of criticism from Japanese media outlets more accustomed to eulogizing the 'Toyota way.'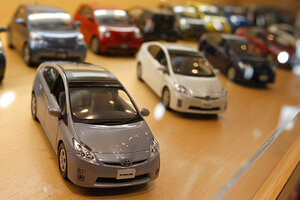 Toru Hanai/REUTERS
What is good for Toyota, the old saying goes, is good for Japan.
But in the wake of the global recall of 8.5 million cars affected by acceleration and brake problems, that maxim has a decidedly hollow ring to it.
Soon after the failure of Japan Airlines underlined the perils of poor management, rampant expansion, and ruinously cozy ties with the bureaucracy, Japan is only just coming to terms with its latest corporate fiasco.
Around the world, Toyota is now regarded as the sick man of Japan Inc., and its disastrous handling of the recall a symptom of wider unaccountability and arrogance that could hit the country's exports.
At home, fiercely loyal Japanese drivers are wondering how a firm with a deserved reputation for quality and reliability could allow substandard vehicles to slip through its vaunted quality-control apparatus. Indeed, Toyota has fallen so far, so fast, that for a while Japan was simply in denial, from the Toyota executives who blamed US-made parts and even American drivers, to the pundits who sensed a US-led conspiracy aimed at denting Japan's export industry.
But the global recall of the Prius hybrid, a model largely manufactured at home, has punctured any sense of defect immunity the Japanese might have once felt. That move pushed the number of cars recalled by Toyota since October to 8.4 million.
---