Toyota recall: Great cars, poor consumer relations
Despite a Toyota apology and their loyalty to the cars, some owners are furious over the handling of the Toyota recall.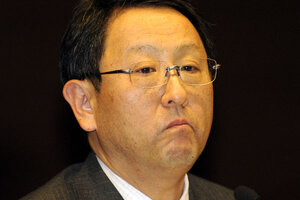 Yoshikazu Tsuno/AFP/Newscom
Toyota President Akio Toyoda's apology for a recall of 8.1 million vehicles came a fortnight late and represents the latest dash of ink in an ever-expanding black mark for the Japanese automaker.
For a brand with a shining reputation for quality, the corporation's fumbling response to mounting complaints about sudden acceleration and braking problems has pushed even loyal customers into an unhappy place. They still love the cars, but many are frustrated, and even angered, by the way the company has treated them.
That's a big danger for Toyota. It's one thing to scare off new buyers. Recalls are quickly forgotten. But tick off the repeat customer and you are digging a deep, deep hole for future sales.
"It might be the last one I'm going to buy," says Joseph Fabian of Sicklerville, N.J., who recently bought a 2010 Toyota Prius."I had trust in their technology, one of their top technologies."
Then, Toyota announced a recall of other models last month, prompting Mr. Fabian to complain to his dealer about braking problems with his Prius.
"They kind of pushed me away telling me I didn't have anything wrong with it because it wasn't on the recall list," he says. "They said they weren't going to look at the system because, 'We're too busy with the recall.' "
On his drive to work every day, Venkatesh Krishnamurthy makes a U-turn that takes him over a pothole. Like clockwork, his 2010 Toyota Prius surges forward as he brakes through the turn. He's measured the change in vehicle speed at about two miles per hour for the second the car's computer thinks it has entered a skid and suspends the brakes.
---