Why some in Japan support US bases in Okinawa
Japan is host to more than a dozen US bases in Okinawa. Some residents of the island's small port of Henoko, where the US wants to build a controversial military base, say they could use the boost to business.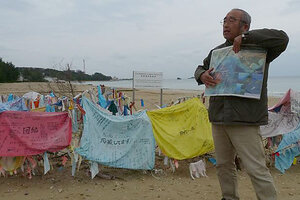 Peter Ford
After 65 years of living alongside more than a dozen US military bases, most Okinawa residents have had enough of the noise, the potential danger, and the occasional friction caused by 18,000 Marines and their machinery.
The rape of a young girl by US soldiers in 1995 has not been forgotten; the crash of a helicopter into Okinawa International University in 2004 (miraculously nobody died) is constantly evoked; and the general nuisance is widely resented.
"When the helicopters come over, they really fly low," complains Sachiko Watari, manager of an electronic repair store just 100 yards from the Futenma airbase fence in Ginowan. "I can't hear anything; if I'm on the phone I have to ask the other person to wait."
But in Henoko, a small dying port where the Americans want to build a helicopter base to replace Futenma, opinions are more nuanced.
"All the men in my family are fishermen or in construction," says Katsue Sakiyama, walking her dog through the deserted village streets on a Saturday morning. "With the economic crisis, a lot of people are having to leave Okinawa to find work. If the base were built, it would mean more jobs here."
---