Philippines election: Doubts arise over electronic voting machines
New computerized electronic voting machines are meant to prevent fraud in Philippines election in May. But in tests, the voting machines rejected ballots and failed to connect to the cell phone networks to transmit results.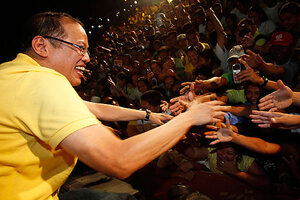 Jay Morales/Reuters
Concerns are rising that the use of electronic voting machines in the May Philippines election, meant to prevent vote-rigging, could fail due to technical problems and end up threatening rather than reinforcing the credibility of the ballot.
Glitches in the new system could lead to an inaccurate vote count or to manipulation, in a country where election fraud has occurred before and undermined stability.
The incumbent, President Gloria Macapagal-Arroyo, was accused of cheating in the 2004 election. She denies this, but has been beset by coup plots and impeachment attempts. In 1986 accusations of fraud led to the overthrow of President Ferdinand Marcos.
A survey conducted in January by respected pollster Pulse Asia found that 48 percent of Filipinos expect the May 10 national elections to be clean and the results to be credible. Fifty-four percent "expect trouble" if they are not.
(Click here to read about what to look for in the Philippine elections.)
"The feared consequences include, first, public unrest fomented by high expectations that the replacement of the manual system would do away with widespread fraud and, second, such an unrest could give reasons to President Gloria Macapagal Arroyo to declare a failure of elections, allowing her to hold on to office beyond the expiration of her term in June," says Philippine Daily Inquirer political analyst Amando Doronila.
Speeding up the vote count
The old system, in which votes were counted by hand, often took weeks to produce definitive results - and opened the door to fraud claims.
---