Google China pullout: What has changed?
The Google China pullout means that operations were shifted overnight, with the company saying it will no longer comply with Chinese government demands that it censor its search results. Some in China expect Google will eventually be kicked out of the mainland.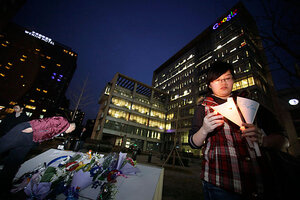 Jason Lee/Reuters
Google's decision to stop self-censoring the search results of Google China – essentially pulling out of the world's biggest market – has created changes for end users on the mainland, though so far they amount to ones of style rather than substance.
The key difference today is that a search attempted on Google.cn is redirected to Google.com.hk, the company's affiliate in Hong Kong, where China does not demand Internet censorship.
A search for the Chinese version of "tank man" on the old self-censored version of Google in China would yield a page of search results that would omit many listings for the iconic photo of a Chinese man confronting a row of tanks at Tiananmen Square in 1989. A search via Google.com.hk from the mainland today returns most of the results that point to the image – but those are censored by the so-called "Great Firewall of China" when a user tries to click through.
IN PICTURES: Top 10 countries that say Internet access is a basic right
---