On eve of Shanghai Expo 2010, China finds 'soft power' an elusive goal
Chinese authorities have seized on the Shanghai Expo 2010 – the largest in history – as another chance to enhance 'soft power' that is generated by the spread of cultures, values, diplomacy, and trade. The expo opens this weekend.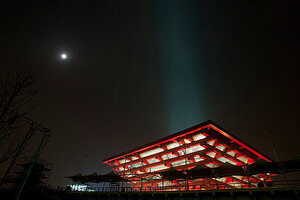 Reuters
At the heart of the Shanghai World Expo stands the host nation's pavilion, a giant latticed crown painted crimson. Packed with exhibits portraying daily Chinese life, China's ethnic diversity, and the standard bearers of Chinese philosophy, the display shows China's friendliest face to the world.
Hard on the heels of the Beijing Olympics, the authorities here have seized on the Expo – the largest in history – as another chance to improve the rising giant's international image. Learning how to win friends and influence people is a task to which the government has attached the highest priority in recent years.
It appears, however, to be failing. A BBC poll released in April found that only one-third of respondents in 14 countries believe China is a positive influence, down from one-half just five years ago.
China's Shanghai Expo 2010 – by the numbers
---