In final UK election debate, candidates dodge No. 1 issue: the deficit
David Cameron topped snap polls after last night's final debate ahead of the May 6 UK election. But he, Brown, and Clegg all stand accused of avoiding discussion of how to reduce Britain's massive deficit.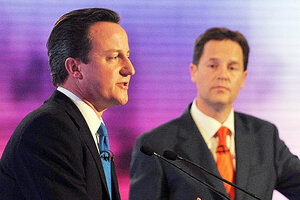 Jeff Overs/BBC/AP
With the dust still settling the morning after a bruising final televised debate ahead of next Thursday's general election, the leaders of Britain's three main parties stand accused of failing to face up to the 800-lb. gorilla in their living room: just how the next government will to tackle the UK's massive deficit.
Conservative leader David Cameron was judged by polls to have narrowly prevailed over his rivals in last night's debate, which was devoted to the economy. But no one got credit for plugging the gaping holes in the parties' plans to tackle Britain's public spending.
The lack of candor stems from all three leaders' recognition that it is politically perilous to come clean about the pain that will result from sweeping and virtually inevitable government cuts ahead, say analysts.
"It would be electoral suicide," says Michael Wickens, one of an array of eminent economists who penned an open letter earlier this year warning of the urgent need to wipe out Britain's underlying structural deficit within five years.
Talk to the Editor for April 29: Politics in the UK
Austerity measures could sink next government?
---