Liberal Democrat Clegg becomes man to watch in UK race
The UK race has gone from static to electric, says one pundit, as Liberal Democrat Nick Clegg surges after last week's debate. His sudden popularity has thrown open a race that was once seen as the Conservative Party's to lose.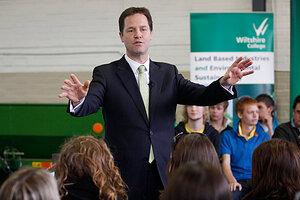 Andrew Winning/Reuters
A week ago, he was barely a contender. Then there was a debate. Nick Clegg came out swinging, and the whole election shifted.
Forget about Prime Minister Gordon Brown, leader of the Labour Party. Tear your attention away for a moment from dashing Conservative leader David Cameron and his popular wife, Samantha. The candidate to watch these days is Clegg, leader of the Liberal Democrats, Britain's third party, and the potential kingmaker of the 2010 elections.
"The LibDems may not win on May 6," says Robert Worcester, founder of the London-based polling and research organization MORI, "but Nick Clegg has turned the this election from static to electric."
Clegg was the surprise winner in last Thursday's debate – presenting himself as the real agent of change in Britain, and offering an alternative to all those fed up with Labour but unconvinced by the Conservatives.
---