Candidates host carnival-like rallies ahead of Philippines election
Top candidates in next week's Philippines election have all cast themselves as the anticorruption leader. But they're focusing less on reform than on entertaining voters with singers, dancers, balloons, and prize giveaways.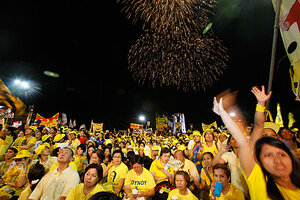 Bullit Marquez/AP
Campaigning for the Philippines presidential election on May 10 is nearing its climax in a carnival atmosphere – with more emphasis on colorful streamers and personal stories than on pressing issues such as corruption.
At rallies, a kaleidoscope of banners, streamers, and balloons, and a giveaway of T-shirts and baseball caps dazzles the eye, while a cacophony of rock music deafens the ear. Candidates pop up from behind ranks of showbiz celebrities, singers, and dancers, as crowds jostle for free food.
The main issue in these campaigns is serious: corruption. The administration of the unpopular President Gloria Macapagal Arroyo, who cannot run for another term, has been plagued by accusations of graft, although she denies any wrongdoing.
Each of the leading contenders in the election is striving to persuade voters that his administration would be corruption-free, but have pointed mainly to their personal history rather than policy recommendations.
Clean images
Leading in the polls is Sen. Noynoy Aquino, the son of late former president Corazon Aquino, who overthrew the fabulously corrupt dictator Ferdinand Marcos in 1986. Filipinos revered "Cory" for her probity, and her son's campaign has been an effort to cast him as a chip off the old block. His campaign slogan – "no corruption means no poverty" – resonates among Filipinos, two-fifths of whom live below the official poverty line. But Aquino has said little about how exactly he would tackle corruption or poverty.
---