China slips in ranking of Asia's top colleges
Despite investing billions of dollars to create world-class seats of learning, China lags in a new list of Asia's top colleges. Its highest-ranked Peking University came in 12th, down two spots from last year.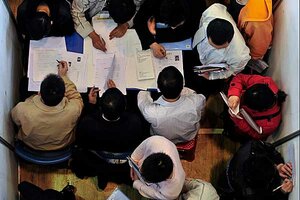 AP
Hong Kong universities top a new ranking of Asian seats of learning published today, far outstripping their rivals in mainland China.
No mainland university made the top 10 on the list, compiled by the London-based QS, a higher education information company. It was dominated instead by institutions in Hong Kong and Japan.
That did not surprise Prof. Zhang Ming, a professor of politics at Renmin University in Beijing. "Chinese universities are getting worse, and they are getting worse fast," plagued by bureaucracy and plagiarism, he says bitterly.
The top mainland university, Peking University, came 12th on the list – ahead of its great rival Tsinghua, which trailed in 16th place. These results, poorer than last year's rankings, will disappoint Chinese education officials "who have been throwing billions of dollars at universities for the past 12 years," says Prof. David Zweig, who teaches at Hong Kong University of Science and Technology (2nd in the table, behind Hong Kong University).
---