Sagging in polls, Australia's government toughens stance on asylum seekers
Australia's Labor government, which recently fell behind in the polls for the first time since taking power, has imposed a freeze on asylum seekers from Afghanistan and Sri Lanka.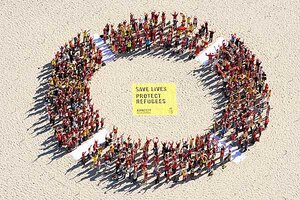 James Morgan/Amnesty International/Reuters/File
Christmas Island, Australia
In 2001 Christmas Island became synonymous with Australia's hard-line refugee policy after former conservative Prime Minister John Howard turned away a Norwegian tanker, the Tampa, carrying shipwrecked asylum seekers.
Nine years later, the island – an Australian external territory 1,600 miles northwest of Perth – is again in the spotlight, as asylum policy once again becomes a political football.
In Australia, which intermittently receives boatloads of refugees fleeing war and poverty in neighboring countries, the issue is always a sensitive one, but never more so than in an election year.
The Labor government, accused of being "soft" on border protection following a flurry of asylum-seeker boat arrivals on the island, has announced a freeze of up to six months on the processing of new refugee claims by Afghans and Sri Lankans.
Immigration Minister Chris Evans cited improved security conditions in the two countries when announcing the move last month. However, critics noted that the move followed the interception of dozens of boats in Australian waters this year, and revelations that an immigration detention center on Christmas Island is overflowing.
'Tough but compassionate'
---