Bangkok smolders day after crackdown on red-shirt protesters
Sporadic violence flared in Thailand Thursday as more red-shirt protesters left their camp in Bangkok, two more leaders surrendered, and a curfew was extended until Sunday.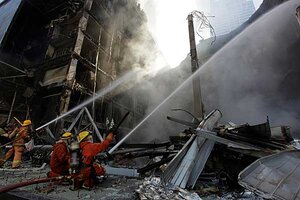 Yannis Behrakis/Reuters
Thai authorities extended a nighttime curfew until Sunday as sporadic violence flared, one day after a military crackdown on a marathon "red-shirt" rally.
At the abandoned rally site, firefighters aimed hoses at the smoldering ruin of a shopping mall, a favored spot for New Year countdowns in the capital. It was one of more than 20 locales targeted by arsonists inspired or led by the antigovernment red shirts. Similar attacks flared in cities north of Bangkok, where curfews were also declared.
Two more red-shirt leaders surrendered Thursday to police and will face criminal charges for their role in the protests, which have paralyzed parts of Bangkok for more than two months. The leaders and more than 50 protesters have been detained at a southern military camp under an emergency law in place in the capital and 23 other provinces, according to Thai media.
But many of the shadowy gunmen blamed for attacks on security forces and rival protesters melted away Wednesday, say witnesses. Troops were slow to sweep the site after making a rapid advance from its southern perimeter with a dawn attack on red-shirt barricades.
Fear and defiance
As gunshots rang out, at least 2,000 red shirts bedded down Wednesday at a Buddhist temple behind the torched mall. They were evacuated Thursday, as troops continued their mop-up operation. Many demonstrators had arrived from the rural north and northeast and are supporters of the former Prime Minister Thaksin Shinawatra.
---