China leans toward South Korea's view of Cheonan warship sinking
Is China leaning toward supporting sanctions against North Korea? China's Premier Wen Jiabao discussed with South Korea's President Lee Myung-bak the evidence of the Cheonan warship sinking. Japan, China, and South Korea meet this weekend.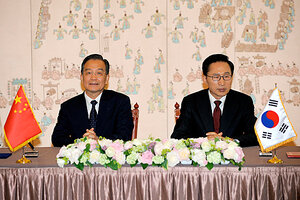 Jung Yeon-Je/Reuters
China showed signs Friday of edging toward South Korea's view of the March sinking of the South Korean navy vessel, the Cheonan. At least, China's second highest leader indicated China would not side with North Korea's denial of having anything to do with it.
China's Premier Wen Jiabao left that impression after a two-hour meeting here with South Korea's President Lee Myung-bak. The Cheonan episode, in which 46 sailors died, was the central topic.
Mr. Wen, as quoted by a spokesman for Mr. Lee, assured him that China "opposes and censures any kind of act destroying peace and stability on the Korean Peninsula."
In what many viewed as a careful exercise in diplomacy, as reported by Yonhap, the South Korean news agency, Wen said China would "determine its position in an objective and fair way" – with due regard for "the international investigation" that concluded last week that a North Korean midget submarine had fired the torpedo that sank the Cheonan on March 26.
While not the condemnation that South Korea was hoping for from China, analysts say, it showed China's lack of enthusiasm for North Korea's threatening rhetoric as well as its denials of sinking the 1,200-ton naval vessel in disputed waters in the West or Yellow Sea.
---