Japan's Hatoyama resigns, dogged by Okinawa base dispute
Japanese Prime Minister Yukio Hatoyama said Wednesday he would resign after coming under fire for weak leadership and reneging on a promise to move a US military base off Okinawa island.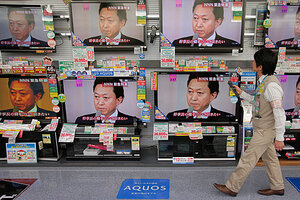 Itsuo Inouye/AP
Japan plunged again into political upheaval Wednesday after the Prime Minister, Yukio Hatoyama, said he would resign amid fierce public criticism over his handling of a US military base relocation, just eight months after his party won a landslide election victory.
In another blow to the ruling Democratic Party of Japan (DPJ), Mr. Hatoyama said his powerful general-secretary, Ichiro Ozawa, would also quit in an attempt to "clean up" the party's image.
Mr. Ozawa, widely seen as the main power broker in the government, has been embroiled in a political funding scandal since last spring. Hatoyama, meanwhile, has faced questions over revelations that he received $170,000 a month from his mother to support his political activities.
"Since last year's elections, I tried to change politics so that the people of Japan would be the main characters," Hatoyama said in a televised address to party members.
But he conceded that he had failed to convince voters that he was capable of implementing the sweeping policy changes he promised last year, crucially his determination to end decades of subservience to US foreign policy.
---