Japan's new prime minister stumbles over consumption tax
In Sunday's upper house parliamentary elections, Japanese voters turned against the ruling Democratic Party of Japan (DPJ). Prime Minister Naoto Kan's plan to double the consumption tax to 10 percent is behind the backlash, say analysts.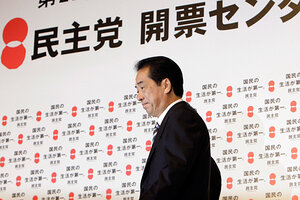 Greg Baker/AP
Japan faces the prospect of political gridlock after the heavy losses suffered Sunday in upper house elections by the Democratic Party of Japan (DPJ), which has been in power only 10 months, and with a new leader appointed last month.
Having finally ousted the Liberal Democratic Party (LDP) after more than half a century of almost uninterrupted power, the DPJ has now managed to lose one leader and one election before its first year in government is out.
Voters were apparently unhappy with new prime minister Naoto Kan's recently announced proposal to double the consumption tax rate to 10 percent. This despite polls showing a majority of the public say such a measure is inevitable in order to fix the creaking state finances, and it also being the policy of the opposition LDP – Sunday's main electoral beneficiary.
"I touched on the consumption tax and the public may have felt it came all of a sudden. I also believe that my lack of explanation about it was a big factor," a tired and slightly shaken-looking Mr. Kan told a news conference in the early hours of Monday morning.
After the resignation of former Prime Minister Yukio Hatoyama – over political funding scandals and the issue of relocating a US Marine base on an Okinawa - the DPJ enjoyed a huge surge in popularity when Kan took over; only to see it evaporate again in the weeks leading up to the election.
---