Indonesia cleric's arrest highlights work of US-trained counterterrorism unit
The arrest of Indonesia cleric Abu Bakar Bashir highlights the ongoing counterterrorism work of the US-trained Detachment 88. Some groups are concerned over the police unit's alleged use of torture.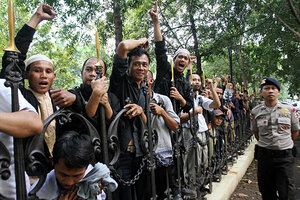 Tatan Syuflana/AP
An elite US-trained Indonesian police unit set up to combat Islamist terrorist networks is back in the spotlight after a hardline preacher, Abu Bakar Bashir, was arrested Monday and charged Wednesday with helping plan terrorist attacks.
His arrest for allegedly helping set up and support a terrorist training cell in Aceh Province could not have happened, analysts say, without years of counter-terrorism work by police unit Detachment 88. In recent months, the counterterrorism cops have killed or captured dozens of militants, including a bomber who trained in Afghanistan. The militants' alleged targets included Western embassies in Jakarta and President Susilo Bambang Yudhoyono.
But Detachment 88 has also been deployed against a different enemy: peaceful protesters in eastern Indonesia. Critics say that Indonesia has blurred the line between political dissent and extremist violence under the banner of counterterrorism, raising questions about the United States' support for allied security forces engaged in counterterrorism.
Last month, Defense Secretary Robert Gates agreed to restore ties with Indonesia's military special forces, which were severed in the late 1990s over human rights abuses, including the disappearance of political activists. After 9/11, the US turned to Indonesia's police as an ally in fighting Islamic terrorism and in 2003 helped set up Detachment 88, but Indonesia's military has lately been pushing for a larger role in combating terrorism, too.
---