US-Vietnam ties strengthen with military exercises, to China's chagrin
This week, the USS John McCain is engaged in military exercises in the South China Sea - setting a new threshold in US-Vietnam ties.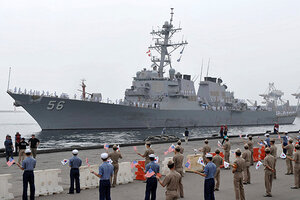 Yonhap/AP
In the latest twist to Southeast Asia's blood-stained history, this week the USS John McCain is training Vietnamese forces in the South China Sea in search-and-rescue.
"It's extraordinary considering we were bombing Vietnam," says Frederick Brown, who was US consul-general in Danang in the early 1970s as war raged in Vietnam's jungles and rice paddies. "It's something the US and Vietnam want to do. It's a military-to-military relationship."
Adding to the historical irony, the USS John McCain, a guided missile destroyer equipped with the latest aegis counter-missile system, is named for the grandfather and the father, both US Navy admirals, of US Senator John McCain, who was imprisoned in Hanoi for more than five years after his US Navy plane was shot down in the war.
The USS McCain called at the central Vietnam port of Danang on Aug. 10 for what were called "cultural visits" two days after Vietnamese officials were flown out to the aircraft carrier George Washington, a 97,000-ton behemoth cruising the waters in defiance of China's claims to the entire South China Sea.
---