South Korea OKs humanitarian aid trip to North Korea
A South Korean doctor and two drivers are headed just across the line bearing antimalaria drugs next week, a move that may signal a slight shift in policy toward North Korea.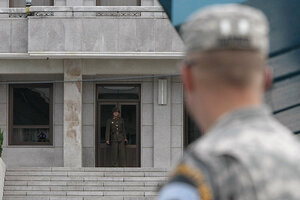 Ahn Young-joon/AP
For the first time since the sinking of the South Korean Navy corvette Cheonan in March, South Korea is giving permission for humanitarian aid to North Korea.
The aid is extremely limited and is going to the closest point in North Korea to Seoul, which is 40 miles south of the line between the two Koreas. Nonetheless, the planned journey next week of a South Korean doctor and two drivers to the ancient Korean capital of Kaesong, where they will deliver antimalaria drugs, may signal a slight shift in policy.
That was the impression Friday after a spokesman for the Unification Ministry, responsible for dealings with North Korea, said the government had authorized the doctor to bring about $336,000 worth of drugs to the city.
President Lee Myung-bak banned all forms of aid after the Cheonan was torpedoed in the Yellow Sea in March with a loss of 46 sailors. But he relented under severe criticism. Opposition politicians and religious leaders in particular have called for relaxation of the ban in hopes of relaxing tensions between the two Koreas.
Then again, the decision to permit a doctor to bring antimalaria aid to the North may been motivated by the South's desire to keep the disease from South Koreans, including South Korean managers and technicians in the nearby Kaesong Economic Complex.
A Unification Ministry spokesman had a simple explanation for why the government had decided a doctor could make the journey. Malaria, he said, had "the potential to affect South Korean residents south of the border," and the doctor has to go there "to explain to the North how to use the aid kits."
---