North Korea's Kim Jong-il may go public with dynastic rule
Speculation is rampant that North Korea's Kim Jong-il will go public with plans to name his son his heir at a rare political conference.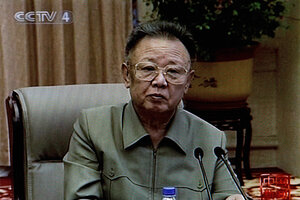 CCTV via APTN/AP
North Korea's leader Kim Jong-il is expected to convene the first high-level conference of the ruling Workers' Party in about 40 years amid widespread speculation that the world will finally get the answer to one great question:
Will Kim's third son, Kim Jong-un, be confirmed as heir to power?
If so, he would be the third in a line that began when Kim Jong-il's father, the late "Great Leader" Kim Il-sung, took over at the time of the founding of the Democratic People's Republic of Korea in 1948.
There's no guarantee, however, that Kim Jong-il, who rose to full power after Kim Il-sung's death in 1994, will confirm the speculation. For that matter, it's not even totally certain the conference will convene this weekend, as widely reported.
What is known is that, yes, posters have been seen in Pyongyang announcing that delegates are gathering for an important party conference. All the rest – the notion that the party is reorganizing, that Kim Jong-un will appear, that he will accept a leading party position, is guesswork.
Guess who's missing from North Korea media
The fact that the conference is slated to convene at all, however, strikes analysts as critical for Kim Jong-il's effort to pass the reins to his son. Still, analysts caution against jumping to conclusions for one basic reason: For all the speculation about Kim Jong-un as a rising star in North Korea, neither his name nor his photograph seem to have appeared in the North Korean media.
---