China fishing boat captain to be freed by Japan. Will it ease tensions?
Japan announced Friday it would release a Chinese fishing boat captain involved in a collision near disputed islands.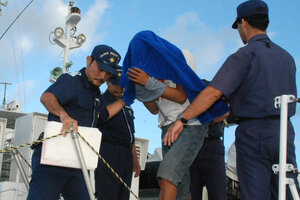 Karii Matayoshi/Okinawa Times/AP Photo/File
Japan moved Friday to defuse an escalating diplomatic row with China, when prosecutors said they would release a Chinese fishing boat captain accused of having rammed Japanese patrol boats in disputed waters.
The decision came hours after China revealed that police had arrested four Japanese citizens for allegedly entering a military zone without authorization and filming.
Though Japanese government spokesmen said they had not influenced the local prosecutor's decision, it is likely to leave Prime Minister Naoto Kan open to criticism that he bowed to pressure from his giant neighbor.
Deputy Public Prosecutor Toru Suzuki told reporters that "taking into account the impact on our citizens and Japan-China relations, our judgment was that it would have been excessive to prolong the investigation and his detention."
Chinese leaders had piled increasing pressure on Tokyo over the detention of the trawler captain, with Prime Minister Wen Jiabao publicly demanding his immediate release earlier this week, and warning otherwise of "further action."
There were reports Thursday that China had cut off exports to Japan of rare earths used in the manufacture of a range of high-tech goods from wind turbines to iPhones. It was unclear, however, whether shipments had been halted because of the dispute over the trawler captain's detention or because China has already reached its 2010 quota for rare earth exports.
---