China Japan territorial spat over a fishing boat flares
Even though China is Japan's largest trading partner, a fishing boat row between China and Japan this week highlights tender relations when it comes to disputed territory.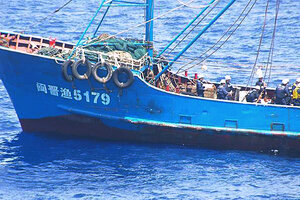 Japan Coast Guard/AP
China stepped up the pressure Friday in its latest territorial spat with Japan, as Foreign Minister Yang Jiechi demanded that Tokyo immediately free the crew of a Chinese fishing boat detained in disputed waters.
Mr. Yang made a "solemn representation and protest" about Tuesday's seizure, a Chinese Foreign Ministry statement said, and "demanded that Japan unconditionally release and return the entire crew of the fishing boat." The Chinese boat was seized after it collided with two Japanese patrol boats.
China is Japan's largest trade partner and the two countries have made considerable progress in recent years to overcome decades of hostility and mistrust stemming from Japan's occupation of China last century.
 
But misgivings on both sides persist. And this latest spat over territory illustrates that relations remain tender.
The latest in the fishing boat spat
---