China-Japan row threatens five-year warming trend between old foes
The speed with which the fishing boat dispute turned ugly suggests how little has been achieved in China-Japan reconciliation over the past five years, say analysts.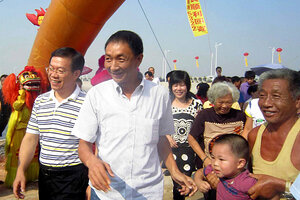 AP
As China and Japan continue to spar in their worst diplomatic crisis for five years, prospects that the two Asian giants will be able to enjoy normal relations anytime soon appear slim.
The fierce row over Japan's detention of a Chinese fishing boat captain in disputed waters "shows how really fragile and easily changeable relations are" between the two countries, says Mel Gurtov, chief editor of the Seoul-based "Asian Perspective" quarterly.
The surprising speed with which the dispute turned ugly also suggested "how little has actually been achieved" by continuous efforts at Sino-Japanese reconciliation over the past five years, says Tobias Harris, who runs observingjapan.com.
The ball is in whose court?
Japan's release of the trawler captain, accused of deliberately ramming Japanese patrol boats, did not defuse the crisis. Beijing then demanded an apology and compensation for his detention, which Tokyo bluntly refused.
---
Follow Stories Like This
Get the Monitor stories you care about delivered to your inbox.