Japan's 'scientific' whaling season delayed, Sea Shepherd claims responsibility
Financial pressures, clashes with the Sea Shepherd antiwhaling activists, and a drop in the demand for whale meat are contributing to the delayed whaling ship departure.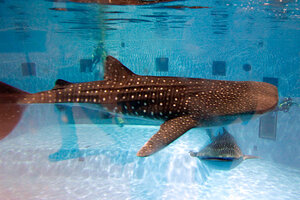 Shizuo Kambayashi/AP
The Japanese whaling fleet has yet to leave port for the Antarctic Ocean – the first time in recent memory that it has not done so by December – apparently unable to secure a refueling ship for its annual hunt, or a market for its catch.
Financial pressures, clashes with vessels from the antiwhaling Sea Shepherd Conservation Society, a group of US-based activists, and a drop in the domestic demand for whale meat all appear to be contributing to the late departure of the fleet. Sea Shepherd's Scott West says his organization plans to "sink the fleet economically."
Another problem is that the refueling ship that the whaling fleet used until last winter has been retired, and the fleet appears to be having difficulty finding a replacement – essential for the months-long expedition – as companies are loath to send vessels into the whaling arena – a rather risky environment for boats given activist opposition.
"Without a refueling ship, we also expect the fleet to come back early because it is also used as a transport ship for bringing the meat back to Japan during the hunt," says Wakao Hanaoka of Greenpeace Japan.
---