US, South Korea eye shift in rules of engagement on North Korea
Seoul's top general and US Adm. Mike Mullen did not formally announce a shift in rules of engagement. But South Korean analysts believe they are shaping the first possible strategy shift since the Korean War.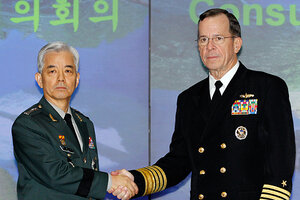 Lee Jae-Wo/AP
The top US and South Korean military officers edged Wednesday toward a significant shift in the rules of engagement for countering North Korean attacks.
Adm. Mike Mullen, chairman of the Joint Chiefs of Staff of the US armed forces, said after meeting his South Korean counterpart that South Korea as a "sovereign nation" had "every right to protect its people in order to effectively carry out its responsibility."
That remark was seen here to mean that the US would not stand in the way of South Korean commanders ordering fighter jets to bomb and strafe North Korean bases in case of an attack by North Korea on a target in the South.
Admiral Mullen stood beside General Han Min-koo, chairman of the Joint Chiefs of Staff of the South Korean armed forces, as each of them parried questions about the need to remove constraints on South Korean forces.
The issue has assumed prime importance here in the aftermath of North Korea's bombardment on Nov. 22 of an island in the Yellow Sea in which two South Korean marines and two civilians were killed. South Korea responded to the barrage by firing cannon ineffectively at North Korean targets while South Korean F15 fighters were scrambled to the area but ordered not to open fire.
---