China's President Hu Jintao goes to Washington
As China and the US emerge from a year of diplomatic spats, Beijing appears more optimistic than Washington on what can come out of President Hu Jintao's visit to the White House this week.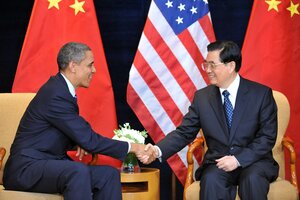 TIM SLOAN/AFP/Getty Images/Newscom
Mismatched expectations of Chinese President Hu Jintao's state visit to the United States, which starts Tuesday, appear to put Beijing and Washington at odds even as both sides seek to calm their troubled relationship.
President Hu says he is going to the US "to enhance strategic mutual trust" between the two sides. A foreign policy adviser to the Chinese government, Chu Shulong, says Beijing wants the trip "to set the tone for the relationship for the next 10 years."
In Washington, however, expectations are more modest as China and the US emerge from the worst year in their relations for a decade. "The summit will establish some much needed stability," predicts David Shambaugh, head of the China Policy Program at George Washington University in Washington.
"After the last year of deterioration, stability is a good thing," he says. "But it's a long way from establishing strategic mutual trust."
There have been recent signs of closer cooperation between the US and China on issues ranging from climate change to North Korea, say some analysts, which give reason for hope that the two giants might find more common ground.
A series of clashes with China over the past year, however, have battered President Obama's early dream of a close partnership.
---