South Korea delivers setback to Somali pirates, and a warning to North Korea
Delivering what analysts saw as a thinly veiled warning to North Korea, South Korea President Lee Myung-bak praised his commandos' stunning rescue today of a freighter seized by Somali pirates.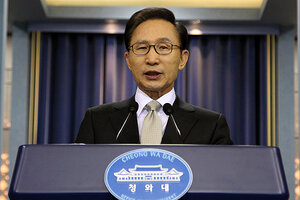 Chun Su-young/Yonhap/AP
South Korea sought to portray its stunning rescue Friday of a cargo ship captured by Somali pirates as proof that it's ready and willing to take on aggressors from the Arabian Sea to North Korea.
An exultant President Lee Myung-bak appeared across national television networks Friday praising the Navy commandos who rescued all 21 crew members of the South Korean-owned freighter while killing eight pirates and detaining three.
"Our military carried out the operation perfectly under difficult circumstances," Mr. Lee said, adding: "We will not tolerate any behavior that threatens the lives and safety of our people in the future."
RELATED: Top 5 high-profile captures by Somali pirates
Analysts say Lee's address was a thinly veiled warning to Pyongyang that South Korean forces are prepared to fight.
---