World launches efforts for New Zealand earthquake victims
The United Kingdom, Australia, the United States, and even Google have launched efforts to aid victims of Tuesday's New Zealand earthquake, which killed at least 65 people.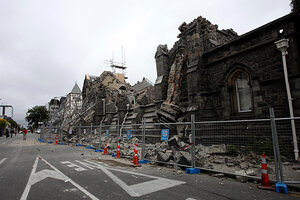 Pam Johnson/NZPA/AP
The morning after a 6.3-magnitude New Zealand earthquake devastated the nation's second-largest city, killing at least 65 people, worldwide efforts are being launched to help in the rescue.
The United Kingdom sent a 53-member search-and-rescue team to Christchurch; Australia deployed sniffer dogs and victim-recovery teams; the United States dispatched a team to help; and even the Internet search giant Google launched a person-finder application on its website.
With 11 Japanese students still unaccounted for and possibly buried in the rubble, Japan News reports that Tokyo is also sending a disaster relief team to the South Island.
"There are various organizations and countries across the world that will provide international search and rescue teams to help following earthquakes and other natural disasters," Andrew Thomas from the South Wales Fire and Rescue Service told the BBC.
The initial earthquake hit Tuesday at 1 p.m. local time, toppling the 130-year-old Christchurch Cathedral's spire, trapping people in collapsed buildings, knocking out power and telephone lines, bursting pipes, and flooding streets with water. Residents were told to avoid unnecessary use of the public water supply – such as by not showering or even flushing toilets – in an effort to save all potable water for drinking during what the prime minister said "may well be New Zealand's darkest day."
---