South Korea hosts war games as debate grows over North's nuclear arsenal
The US and South Korean deployment of new vehicles and robots for defense against nuclear weaponry reflects fears that North Korea, in a leadership struggle and desperate for food, might be tempted to use them.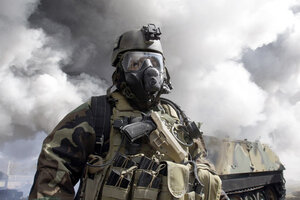 Lee Jin-man/AP
Brig. Gen. Charles Taylor is sure of one thing as he stands beside the latest US Army reconnaissance vehicle for sniffing out evidence of the chemical, biological, nuclear, or radiological weapons that North Korea has developed since the Korean War.
"The North Koreans have threatened to use weapons of mass destruction," says General Taylor, assistant commander of the US Army's second infantry division. "We are preparing for a wide range of capabilities."
Those remarks set the tone for 10 days of war games involving nearly 13,000 American and 200,000 South Korean troops and another month of exercises, all of which wind down at the end of April. The deployment of new vehicles, robots, and other devices for defense against the most fearsome weaponry in the North's arsenal reflects the view that North Korea, in a leadership struggle and desperate for food and other supplies, might be tempted to use them in an unanticipated showdown.
That show of concern comes at a timely moment. Debate here has been heating up over how to deal with North Korean threats – and the widespread sense that North Korea is not going to give up its nuclear weapons even if six-party talks resume on getting the North to abandon them.
---