North Korea walks out of talks. Is it setting the stage for more nuclear tests?
After walking out of a meeting meant as a preliminary step toward six-party nuclear talks, some worry North Korea may stage another nuclear test. Its first test came during a break in six-party talks in 2006.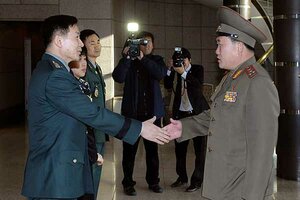 Defense Ministry/AP
South and North Korea's first attempt at a breakthrough in reconciliation in more than four months resulted instead Wednesday in a breakdown in talks, casting serious doubts about attempts at reviving talks on North Korea's burgeoning nuclear program.
The chief South Korean negotiator said the three-member North Korean team got up abruptly and walked out of the room without shaking hands and without comment. The meeting in the "truce village" of Panmunjom was meant to prepare for talks ahead of negotiations between defense ministers.
"Their attitude changed this afternoon," said Colonel Moon Sang-kyun after returning to Seoul with the two other members of the South Korean team. "They changed their minds."
After having been expected to go on talking about items for the defense ministers' agenda, the North Koreans returned from a lengthy lunch break on their side of the North-South line at Panmunjom. They were evidently armed with instructions to reject the South Korean position and go home.
The impasse that ended more than one and a half days of talks raised the question of how or if the two sides can somehow get over this hurdle, move on to talks between defense ministers, then go to talks between high-level civilian officials. All those talks would be a prelude to returning to six-party talks on North Korea's nuclear program, last held in Beijing in December 2008.
One fear here is that North Korea, by going through the motions of wanting to talk, then walking out, is setting the stage for another nuclear test in the spring.
---