How North Korea has skillfully exploited a defector standoff with South
The ability of North Korea to turn the rescue by the South of a boat full of North Koreans into a propaganda coup has surprised observers.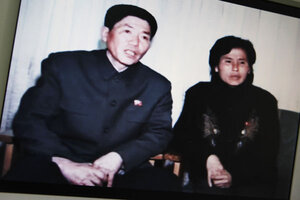 Reuters
North Korea has turned the rescue of 31 North Koreans whose boat drifted into South Korean waters into a huge embarrassment to the South with a propaganda offensive that's drowning out critical North-South issues.
The problem is that four of the 31 are so impressed by what they've seen in the South they've said they want to stay where they are, in South Korea. North Korea authorities are saying, in effect, all or nothing – all 31 have to come home or none at all.
Just to make the message dramatically clear, North Korea has demanded South Korean officials bring the four holdouts to the truce village of Panmunjom for a rendezvous with their wailing relatives. No sooner had South Korea predictably rejected that idea than the North circulated Internet images of the relatives appealing to the four to come home.
The video footage shows up on a North Korean website that's not available to the relatively few North Koreans who have computers and is blocked by South Korean police from screens in the South. Nonetheless, South Korean websites have picked it up from elsewhere, and the message is coming through in the national media.
It's a safe bet that none of the 31 from the boat are seeing or hearing any of this, but analysts agree that all of the propaganda over their fate is more effective than the normal rhetorical flourishes that characterize the nonstop North-South confrontation.
"No matter what, if they go back, I don't think they'll save their families," says Dan Bielefeld, with the Network for North Korean Democracy and Human Rights. "By stating they weren't going back, those four families were already in big trouble."
---