At Japan's radiation checkpoints, relief when tests are clean
Though radiation levels are higher than normal in Japan with leaks due to the Fukushima nuclear plant, 'No one has been found with levels that pose a threat to health,' said checkpoint organizers.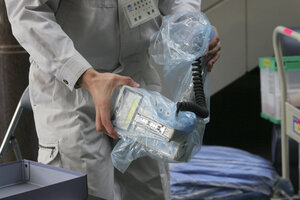 Erico Waga/Special to The Christian Science Monitor
Seven-year-old Luna Endo took off her pink sneakers and handed them to a white-coated technician dressed in forbiddingly protective clothing – a disposable cap, face mask, surgical gloves taped at the cuff and plastic bootees.
The technician ran a radiation detector over the shoes, and then slowly scanned the little girl's clothes and hands. The reading came up clean. Luna's mother, Ikoko, looked relieved.
"She's been feeling unwell so I brought her to be checked," explains Mrs. Endo. The family lives about 30 miles from Daiichi, the site of four stricken nuclear reactors at Fukushima that have been leaking radioactivity since last week's earthquake and tsunami. "I was really worried about her. Perhaps it's just a cold."
Radiation levels at the troubled plant itself have been high enough in recent days to force firemen to occasionally abandon efforts to pour water into the reactors and cooling ponds where nuclear fuel rods are threatening to overheat. The Japanese government, however, says that no civilians have been exposed to harmful levels of radiation.
"There is no fear of contamination among local residents," says a spokesman for the Education ministry, which is organizing the radiation tests. "No one has been found with levels that pose a threat to health."
The crippled reactors have been venting radioactive steam since the accident last Friday, and at one stage earlier this week radiation levels in Tokyo were found to be higher than normal. But the wind has been blowing most of the radioactivity out to sea.
---