How to help Japan
There are several international relief agencies providing aid to survivors of the Japanese earthquake and tsunami. Here's how you can help.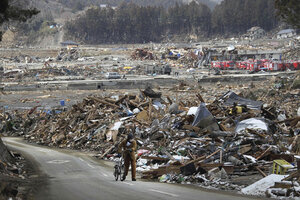 Yomiuri Shimbun, Hiroaki Ono/AP
Japan faces what may be its greatest test since World War II in recovering from something that no other nation has confronted – the simultaneous effects of a massive earthquake, a tsunami, and a nuclear emergency.
While the death toll is substantial – expected to exceed 10,000 – it doesn't compare to the magnitude of the humanitarian disaster last year in Haiti, where an earthquake claimed more than 300,000 lives. Nevertheless, aid is pouring in from around the world as Japan begins a massive recovery effort, including dealing with the nearly 500,000 people who have been displaced.
For those wanting to help, the Center for International Disaster Information offers the following advice: "Financial contributions provide immediate assistance and allow professional relief organizations to purchase exactly what is most urgently needed by disaster victims."
But, before taking out your wallet to donate, you may want to investigate a bit. Criminals sometimes exploit natural disasters for their own financial gain. The FBI cautions Americans to beware of phony charities and other scams. It warns, in particular, that revealing personal information to unknown sources may result in identity theft. Solicitations that arrive by e-mail may also be fraudulent.
---