South Korea war games put Yeonpyeong Island on edge
Four months ago, North Korea shelled South Korea's Yeonpyeong Island, killing four people. War games around the island this week have residents a bit jumpy.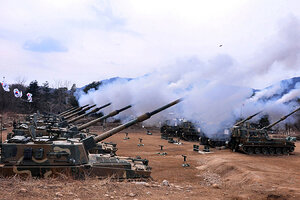 Dong-A Ilbo/Won Dae-yeon/AP
Yeonpyeong Island, South Korea
Amid signs of life returning to normal on this tiny South Korean island, months after a deadly attack from North Korea, tensions are again on edge over war exercises to mark the first anniversary of the sinking of the Cheonan naval corvette.
Three days of sea exercises in the water that surround the island started today and will simulate attacks by North Korean submarines, ships, and jet fighters. An international investigation last year into the sinking of Cheonan concluded that it was struck by a North Korean torpedo on March 26, 2010, killing 46 sailors. North Korea denies responsibility.
That attack near Yeonpyeong Island, which sits in the Yellow Sea less than eight miles from the North Korean mainland, only served as a precursor to a direct attack in November, when a deadly North Korean shelling barrage interrupted island life, killing four people, tearing apart homes and businesses, and causing a near total evacuation.
---