North and South Korea clash across tense border
(Read article summary)
An artillery exchange Tuesday between North and South Korea may be the 'most serious incident' since the Korean War. Two South Korean soldiers were left dead.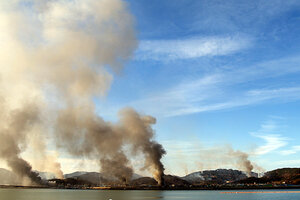 Yonhap/AP
• A summary of global reports on security issues.
North and South Korea exchanged artillery fire along their tense border region on Tuesday, in what some observers have called the "most serious incident" since the Korean War ended with a ceasefire in 1953.
Dozens artillery shells slammed into the Yeonpyeong Island on the contentious Western border. The volley killed two South Korean marines and injured at least two other marines and four civilians. South Korean forces then returned fire.
North Korean officials have blamed South Korea for the incident and said their troops did not fire first. The exchange comes at an especially tense time just after North Korea showed off what it claimed was a new uranium enrichment facility on Saturday, adding to concerns that the country is edging closer to developing a nuclear weapons program.
"North Korea's shelling of Yeonpyeong island constitutes a clear armed provocation. Furthermore, its reckless shelling of civilian targets is unpardonable," said South Korean President Lee Myung-bak in a statement quoted by the BBC. He also warned that his nation would "sternly retaliate against any further provocations."
---
Follow Stories Like This
Get the Monitor stories you care about delivered to your inbox.