A hard-hit Japanese city sees signs of hope in road repair, reopened shops
Workers in Ishinomaki, Japan, have cleared thousands of tons of debris from streets and buildings inundated by the March 11 tsunami. A long-time shopkeeper says customers are starting to return.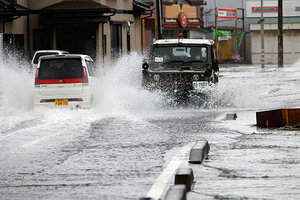 Toru Hanai/Reuters
Tens of thousands of tons of concrete, wood, and metal – the remnants of houses, shops, and boats destroyed when the 9.0-magnitude earthquake struck off the northeastern coast of Japan on March 11 – are piled neatly along the sidewalks of Ishinomaki, one of the worst-hit cities when the tsunami hit land.
The waste is separated into categories for disposal with string, like police tape marking a crime scene, as the region sets about the huge task of recovering from damage unseen in Japan since the end of World War II.
Ishinomaki lost more than 5,500 of its 163,000 citizens; some 2,770 of those are still unaccounted for. The national death toll, meanwhile, is estimated at nearly 14,000, with another some 13,000 still missing. The walls of the city's evacuation centers are still papered with missing posters full of photographs of loved ones and cellphone numbers to call if they are found.
Still, amid all the unmissable signs of destruction, there are the beginning indications of recovery. Workers at Japan's stricken nuclear plant in nearby Fukushima Province began moving tons of highly radioactive water from a reactor building to on-site storage Tuesday. Local flights returned to Sendai late last week. And Ishinomaki has been transformed from the city of flooded streets and hungry citizens that it was just three weeks ago. Shops, even in the districts overwhelmed by water, are reopening, and roads are being repaired. Of the more than 53,000 people who were living in shelters a few weeks ago here, 14,778 remain, and the rest have returned to their homes or are staying with relatives, according to Yoshinori Sato, a city official.
---