China's Tsinghua University aims for global clout of a Harvard or Oxford
Some scholars say China's Tsinghua University, which is marking its 100th anniversary, will be in the global Top 10 universities within a generation. But the political constraints imposed by a one-party state pose a significant challenge.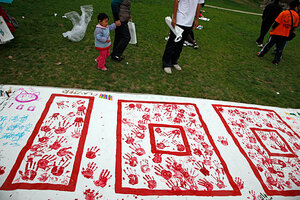 Ng Han Guan/AP
When teachers from the YMCA opened the doors of an elite US-funded prep school in Beijing 100 years ago today, they could scarcely have foreseen that their creation would grow into China's premier university, known as the "red cradle" for the country's Communist ruling class.
But on Sunday, Tsinghua University's centenary celebrations in the Great Hall of the People had all the trappings of a state gala. The star guest was President Hu Jintao, a Tsinghua graduate himself. Also present was the man slated to replace Mr. Hu next year, Xi Jinping – another Tsinghua alum.
Now the university, set in a former Qing dynasty imperial garden in Northwest Beijing, has set itself an even more ambitious goal to match the Chinese government's lofty aspirations for the country: to rank among the world's very best seats of learning.
"Tsinghua...will strive to leap into the front ranks among world top class universities by the middle of the century," the university's president Gu Binglin said on Sunday.
Tsinghua may have earned its reputation as China's top university by churning out generations of politically correct engineers to build modern China's industrial infrastructure, but US and European academics are not scoffing from their ivory towers.
---
Follow Stories Like This
Get the Monitor stories you care about delivered to your inbox.