Will Jimmy Carter's latest North Korea visit change anything?
Former US President Jimmy Carter ended a quick visit to North Korea this week with a message that Kim Jong-il would be willing to hold a summit with South Korea's President Lee Myung-bak.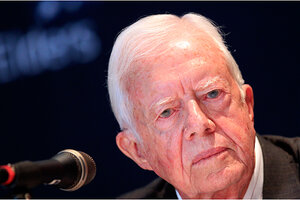 Lee Jin-man/AP
Former US President Jimmy Carter's 48-hour mission to Pyongyang this week leaves analysts wondering whether anyone, however well intentioned, can persuade North Korea's leader Kim Jong-il to relent on his hard-line policies and return to serious talk on giving up the North's nuclear program.
Mr. Carter, arriving in Seoul on Thursday along with the former leaders of three other countries, repeated the North Korean mantra of eagerness to negotiate "without preconditions" but acknowledged that he had again not succeeded in meeting Mr. Kim.
Instead, he and the other three, including Martti Ahtsarri of Finland, Mary Robinson of Ireland, and Gro Brundtland of Norway, had to settle for a written message, said Mr. Carter, of willingness to negotiate "at any time and without any preconditions."
That statement, similar to many released by North Korean officials in recent months, "is a perfect example of the law of diminishing returns," says L. Gordon Flake, executive director of the Maureen and Mike Mansfield Foundation in Washington. It's "bromides that we've all heard before."
---