Japan after Fukushima: village of nuclear evacuees forced to start over - again
Some 20 miles northeast of Japan's devastated Fukushima nuclear power plant, the small village of Iitate was transformed from one of Fukushima prefecture's poorest to a quaint getaway in the mountains on the mend. Now, residents have been ordered to evacuate.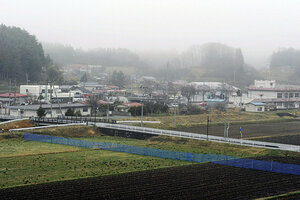 Kyodo News/Newscom
Miyuki Ichisawa and her husband, Shukoh, started a European-style cafe 20 years ago in this sleepy mountainous village in northeastern Japan. It was a bit of a gamble: Iitate was beautiful, but it was one of the area's poorest villages.
"We opened the cafe on this land because we wanted more people to visit the village," Mrs. Ichisawa recalls. Despite the fierce objections of family members and friends, Shukoh, a sixth-generation farmer, quit his civil-service job and decided to run "Agri" while trying to revive his family farm.
To his family's surprise, not only did the cafe draw many customers, but over time, the village began to shift from one of Fukushima Prefecture's poorest to a quaint getaway in the mountains. It was also a champion of the region's organic agriculture. The village's transformation was bolstered by its decision to join Japan's "most beautiful villages" union. Part of a push by Japan to position itself as a leader in the world's urgent quest to live greener, the organization was started in 2005 with seven villages and the goal of preserving the natural environment and sustaining forgotten, struggling villages.
But the Ichisawas' business came to a screeching halt in March – just after Mr. Ichisawa finished planting 1,000 blueberry bushes around their cafe. A magnitude-9.0 earthquake and subsequent tsunami struck the region on March 11, triggering the nuclear emergency at the Fukushima Daiichi power plant, about 20 miles southeast of the village.
While it seemed at first that the town would dodge an order to evacuate, it has now been told that its residents must leave. So the Ichisawas, like so many Japanese who have confronted profound uncertainty in the wake of the disaster, are confronting the demand to abandon carefully crafted lives and figure out how to build new ones.
---