North Korea takes over Mt. Kumgang tourist area, further dimming Sunshine legacy
North Korea has taken control of Mt. Kumgang, a jointly maintained tourist area in which South Korea's Hyundai Asan had invested more than $1.5 billion for a hotel, hot springs, shopping mall, and a road inside the North.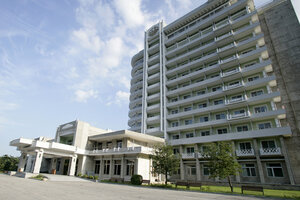 Hyundai Asan/Reuters/File
Few natural wonders are more distinctive than the Mount Kumgang region of several thousand granitic crags looming inside North Korea beyond the demilitarized zone that has divided the Korean peninsula since the Korean War.
For the late Chung Ju-yung, founder of the Hyundai industrial empire, Kumgang, which means Diamond Mountain, was a dream that beckoned long after he ran away from the nearby village of Asan to seek his fortune in Seoul during the Japanese colonial era. One of his proudest achievements, three years before he died in March 2001, was to open tourism to Kumgang by boat to a small port on the east coast.
In recent years, however, Kumgang has come to epitomize the frustrations of entrée into the North. Hyundai Asan, the company that Mr. Chung founded to make deals with North Korea, has invested well over $1.5 billion in Kumgang for a hotel, hot springs, a shopping mall, a road, and other facilities. But the payoff has been tragedy – and, most recently, North Korea's announcement that it's taking over all Asan's operations at Kumgang.
"It's a political campaign by North Korea to change South Korean policy," says Yun Dae-gyu, vice president of Kyungnam University here. He sees little prospect of reopening tours to Kumgang, banned by South Korea's President Lee Myung-bak after a North Korean guard shot and killed a South Korean tourist who had wandered outside the tourist zone nearly three years ago.
---