Australia considers livestock ban to Indonesia due to animal cruelty
After video footage revealed brutal treatment at Indonesian slaughterhouses, Australia, the world's biggest live animal exporter, may ban livestock sales to its northern neighbor.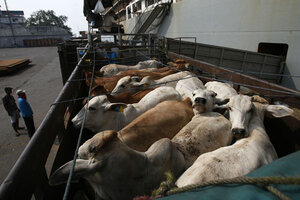 Supri/Reuters
Footage of cattle being brutalized in Indonesian slaughterhouses has prompted calls here for a ban on Australian livestock exports and highlighted international gaps in animal welfare standards.
The footage, secretly gathered by animal rights activists and shown on Australian Broadcasting Corporation (ABC) television earlier this week, provoked an unprecedented public outcry. Australia's Agriculture Minister Joe Ludwig immediately banned the export of cattle to 11 slaughterhouses featured in the current affairs program, and is considering suspending the trade to Indonesia altogether.
Animal welfare groups and some politicians are urging him to go further and ban all live exports out of Australia. But livestock farmers and industry groups say the economic impact of such a move would be harsh, and they are calling instead for better training of overseas slaughterhouse workers and improved monitoring.
"It would have major economic ramifications," says Luke Bowen, executive director of the Northern Territory Cattlemen's Association, which represents many livestock farmers.
The world's biggest exporter of live animals, Australia sends hundreds of thousands of cattle and sheep to dozens of countries around the world every year. Half a million cattle – 60 percent of the total – go to its northern neighbor, Indonesia, for fattening and slaughtering, in a trade worth $351 million.
Now that trade is in jeopardy, following the backlash over scenes of cows dying long, apparently agonizing deaths after being whipped, beaten, and kicked.
---