Why the South China Sea is turning more turbulent
A US-China military rivalry may be behind China's recent aggressiveness in the South China Sea. On Sunday, Vietnam claims China cut the underwater cables of one of its survey ships.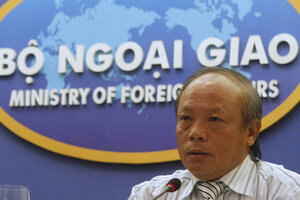 Kham/Reuters
Nearly a year after the US stepped into a simmering dispute between China and smaller countries in the region over potentially oil-rich islands in the South China Sea, tensions are rising again.
Since March, both Vietnam and the Philippines have accused Chinese forces of aggressive acts in disputed areas. Military experts say China's sustained military buildup enables it to project more naval power in an oceanic region where the US Navy has long held sway. US Defense Secretary Robert Gates was due to meet Friday with his Chinese counterpart at a security summit in Singapore. "We are not trying to hold China down," he told reporters Thursday.
Prior to the recent tension, however, analysts say China had begun to dial down its behavior and renew diplomatic efforts to win over its neighbors. The Chinese charm offensive began soon after Secretary of State Hillary Clinton used a regional security forum in Vietnam last July to stake out the US strategic interest in the South China Sea and offer to mediate peace talks.
---